Black Friday Sale - EXTENDED!
Black Friday sale is now extended though Cyber Monday! Including the bonus flash sale which will still take place from 12 P.M. - 1 P.M. each day.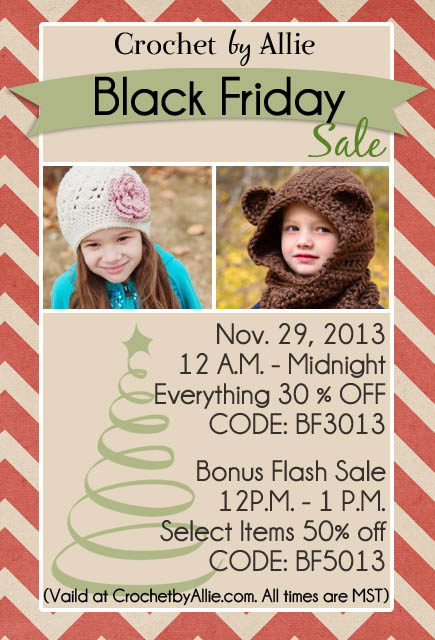 Black Friday starts tomorrow! Get
30% OFF
your entire order using code:
BF3013.
30% off not enough?
Get an exclusive Facebook Fan coupon code by visiting my Special Offers tab to receive a code for
35% OFF!
I will also be having a
BONUS
flash sale from 12 P.M.-1 P.M.
with select items at
50% OFF!
Use code:
BF5013
Here is a list of items that will be 50% OFF during the flash sale.
Yellow Minion Hat
Purple Minion Hat
Blue Pikmin Hat
Red Pikmin Hat
Yellow Pikmin Hat
Rosalee Scarf
Savannah Beanie
Bianna Headband
Football Beanie
Carson Hat
Parker Beanie
Lillian Beanie
Desiree Chunky Cowl
Emma Head Wrap
Skater Boy
Teddy Bear Beanie
The Sweetheart
The Darling
The Townie
All times are MST. Sale only valid at CrochetbyAllie.com